Industrial 3/8 inch Drive Jacobs Keyed Chuck Right Angle Drill, 1700 RPM Free Speed - ISO 9001 Certified, CE Bookmarked.
Master Palm industrial 3/8" reversible right angle air drill is equipped with Jacobs keyed chuck and operates at 1700 rpm with mid-range torque performance, using Keyed Jacobs Chuck. Air drill users can either attach or detach the side handle based on the area of operation.
Reversible Air Drill
Reversible valve design provides forward and reversible drilling motion. Fast and easy to use. The low profile right angle is designed to be used in a complex area where many other devices were installed.
90 Degree Right Angle Design
90 degree right angle drills are used for screw driving and drilling in the hard to reach and confined corners and areas.
The convenient reverse valves are designed for simple forward and reverse direction changes.
The low profile right angle drills are compact and easy to operate with right angle head.
Two gear drive system enables convenient operation with better tool performance
90 Degree Right Angle Drill Model Comparison
---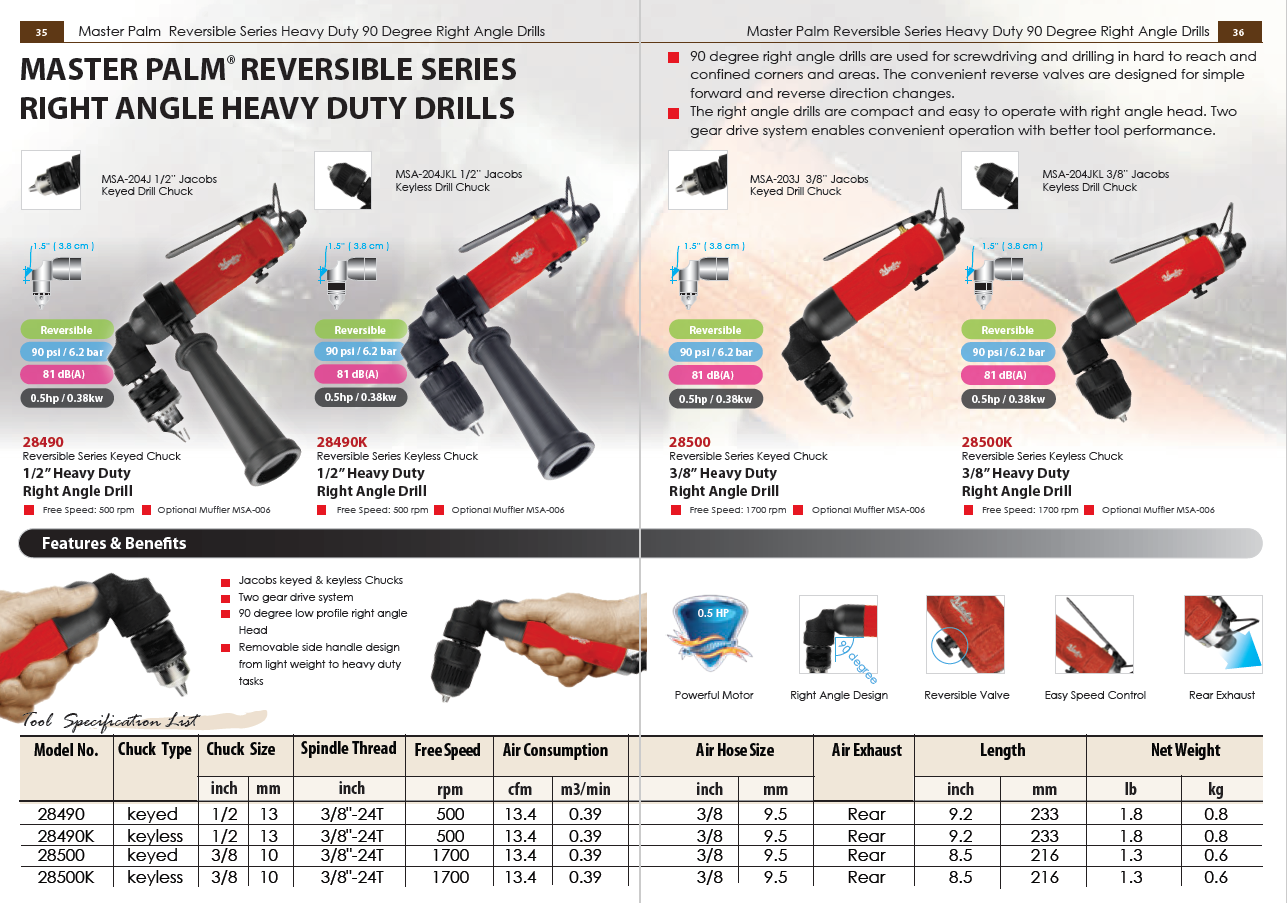 Warranty
Warranty
3 Years Limited Repair Warranty
Air Flow
Air Consumption
13.4 cfm ( 0.39 m3/min )
Angle Dimension
angle height
1.5/38 mm
Basic Information
air pressure
90 psi/6.21 bar
chuck size
3/8"/10mm
exhaust
rear
free speed
1700 rpm
horse power
0.5 hp/0.38kw
hose size
3/8 "/9.52 mm
noise rating
81 dba